Teem::SquareArenaWorld Class Reference
[World interfaces]
#include <World.h>
Inheritance diagram for Teem::SquareArenaWorld: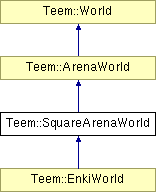 List of all members.
---
Detailed Description
This is the interface to a square world.



Public Member Functions

virtual An::Point
getDimension ()=0
Return the size of this square world.

virtual void
setWallTextures (const std::valarray< An::Texture > &textures)=0
Set the wall textures of this world.

virtual void
useWalls (bool use)=0
Enable/disable the use of walls. A square arena has walls by default.

---
The documentation for this class was generated from the following file:
---
Generated on Mon Oct 24 17:38:29 2005 for Teem by

1.4.2