Stéphane Magnenat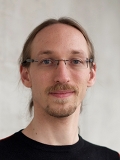 I am an entrepreneur, a software engineer and a game designer. Previously, I was also an academic researcher. As the CEO of Enlightware, I lead the development of Candli, a game creation app that combines traditional art creation with visual programming in a unique way, and has a focus on education. Previously, as Deputy Scientific Director of the Game Technology Center of ETH Zürich, I led research in the fields of video games, visual computing, and artificial intelligence. I am the creator of the Aseba software framework which is the engine of the Thymio educational mobile robot, and the lead developer of its visual programming interface. About 80 k Thymio units were produced by the Mobsya association, which I co-founded in 2010 and co-led until 2016.
You can download my academic CV and my art portfolio.
I fortuitously met people in my life who have enriched my horizon. Thanks to them, there are a music and a movie sections on this site.