Enki::FeedableSbot Class Reference
[Robots classes]
#include <Sbot.h>
Inheritance diagram for Enki::FeedableSbot: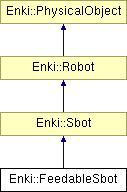 List of all members.
---
Detailed Description
An "improved" Sbot that can interact with SbotActiveObject.

It is a hack for my experiments, should be removed one day.



Public Member Functions

FeedableSbot ()
Constructor.

virtual void
step (double dt)
Call Sbot::step and compute the new energy.




Public Attributes

double
energy
The actual energy of the Sbot.

double
dEnergy
The actual energy difference.

double
lastDEnergy
The previous energy difference.

---
The documentation for this class was generated from the following files:
---
Generated on Mon Oct 24 17:33:58 2005 for Enki by

1.4.2