Enki::Sbot Class Reference
[Robots classes]
#include <Sbot.h>
Inheritance diagram for Enki::Sbot: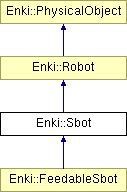 List of all members.
---
Detailed Description
A very simplified model of the Sbot mobile robot.

Only implement a subset of the camera



Public Member Functions

Sbot ()
Constructor.

~Sbot ()
Destructor.

virtual void
step (double dt)
Set the real speed of the robot given leftSpeed and rightSpeed. Add noise.




Public Attributes

SbotCam
camera
The omnidirectional linear camera.

SbotGlobalSound
sound
the sound interaction, based on global frequencies

double
leftSpeed
Speed of the robot.

double
rightSpeed
Speed of the robot.

---
The documentation for this class was generated from the following files:
---
Generated on Mon Oct 24 17:33:58 2005 for Enki by

1.4.2