Stéphane Magnenat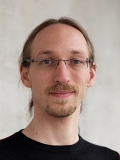 I am an entrepreneur, an academic researcher, a software engineer and a game designer. As the CEO of Enlightware, I lead the development of digital technologies that empower people. As Deputy Scientific Director of the Game Technology Center of ETH Zürich, I am leading research in the field of video games, augmented reality, interaction design, and agent programming from demonstration. I am the creator of the Aseba software framework which is the engine of the Thymio mobile robot, and the lead developer of VPL, its visual programming interface. Thymio is an educational robot used in schools in France and Switzerland. About 50 k units were produced by the Mobsya association, which I co-founded in 2010 and co-led until 2016.
You can download my academic CV and my art portfolio.
I fortuitously met people in my life who have enriched my horizon. Thanks to them, there are a music and a movie sections on this site.
Enlightware
ETH
Private
Game Technology Center
Department of Computer Science
UNH F4
Universitätstrasse 25
CH-8092 Zürich
Switzerland
Please email me if you have to send me anything or if you want to know my instant messenger addresses.


Twitter: @MagnenatS


+41 44 632 58 06
my GPG public key