Stéphane Magnenat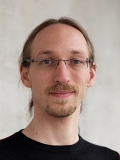 I am a researcher in educational robotics, embodied artificial intelligence, interaction design and video games at Disney Research Zürich. I admire the complexity of the universe and enjoy the knowledge that we have acquired and structured as a species. Therefore, my long-term research goal is to improve our understanding of system-level adaptation in machines, animals and humans.
Recently, I have concentrated my research on making robots and intelligent agents usable by non-specialists. I have approached this question from two directions, first by allowing beginners – even young children – to program robots graphically, and second by devising models to teach behaviours to robots. Through this process, I think that we can better understand various aspects of cognition that elude our understanding.
I fortuitously met people in my life who have enriched my horizon. Thanks to them, there are a music and a movie sections on this site.
Work
Private
Disney Research Zürich
Stampfenbachstrasse 48
8006 Zürich
Switzerland
Please email me if you have to send me anything or if you want to know my instant messager addresses.
phone number soon
my GPG public key